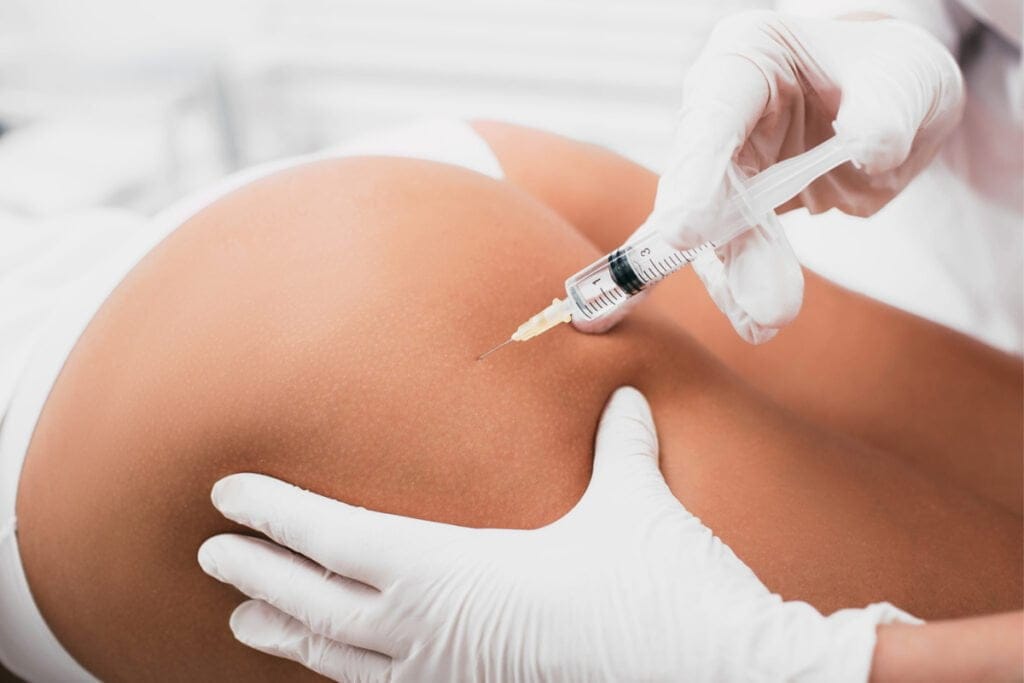 Qwo®, composed of collagenase clostridium histolyticum-aaes, made history in 2021 as the first injectable with FDA approval to treat cellulite. The product employed a powerful enzyme to break down the collagen bands that cause the appearance of unwanted dimpling in the buttocks. However, after less than 2 years on the market, Qwo will no longer be produced or sold by the manufacturer Endo due to excessive and unpredictable bruising side effects, as well as a risk of prolonged skin discoloration.
Below, learn why Qwo was pulled from the market, and what you should know if you received Qwo treatment in the past or are seeking a safe cellulite treatment going forward.
What happened to Qwo?
The manufacturer is no longer producing or selling Qwo after clinical experience revealed that the injectable for cellulite may cause excessive and unpredictable bruising, as well as prolonged skin discoloration. The product remains FDA-approved for cellulite in the buttocks, and physicians may choose to continue offering treatment with their remaining unexpired stock of the product. If you pursue treatment with a doctor who still has Qwo on hand, they should extensively counsel you on the risks and side effects, which can be acceptable to certain patients.
However, before trying Qwo, we recommend consulting with a trusted, board certified cosmetic surgeon on a complete range of cellulite reduction options; you may find you prefer an alternative technique or treatment that has less risk of side effects.
The manufacturer is no longer producing Qwo after clinical experience revealed it may cause excessive and unpredictable bruising, as well as prolonged skin discoloration.
Can I still get Qwo?
Yes, you may still receive Qwo in 2023 from a cosmetic surgeon who offered it before and continues to offer unexpired product. Over time, it will become more difficult to locate a provider for Qwo, as it is no longer being manufactured as of December 2022.
What happens if I got Qwo—am I in danger?
No, you do not need to be concerned for your health if you received Qwo in the past. It is still an FDA-approved injectable, shown to be safe in clinical trials. 
The manufacturer pulled Qwo from the market due to a level of visible post-treatment bruising that, they believed, detracted from its commercial viability; it is not thought to have any other previously unknown risks or long-term effects. The bruising side effects appear locally in the injection areas and are primarily a temporary cosmetic problem.
Is there an alternative treatment I can get instead, now that Qwo is off the market?
There are numerous FDA-cleared, effective cellulite reduction treatments that remain on the market for smoothing dimpled skin. While Qwo is the sole injectable solution that has been developed, other time-tested options still remain available from cosmetic surgeons throughout the U.S. for reducing your cellulite:
Laser treatments: Laser cellulite treatments, such as Cellulaze®, are inserted beneath the skin via a tiny probe that releases the fibrous septae (which cause cellulite) while firming the skin and reducing fat.
Energy-based treatments: Non-laser devices use technology like radiofrequency (RF) or ultrasound, applied topically to the skin, to send pulses below the skin's surface to relax cellulite-causing bands and increase collagen production.
Mechanical treatments: Devices like Cellfina® use a very tiny blade, inserted via a small incision, to precisely target cellulite bands and mechanically break them.
When seeking cellulite treatment, it's important to have realistic expectations: whichever method you choose, expect it to reduce, but not fully erase, cellulite.
Note that methods that only treat the skin's surface are comparatively ineffective: cellulite massage offers only nominal, temporary improvement; similarly, cellulite creams can only slightly boost skin firmness and are thus unable to correct cellulite dimpling. Neither addresses the root causes of cellulite.
The best way to be sure you are investing in a safe, effective cellulite treatment is to consult in person with a board certified cosmetic surgeon; they will explain your options in detail and guide you towards the best choice for you.
---
Explore other cellulite treatment options »
Find a board certified cosmetic surgeon »