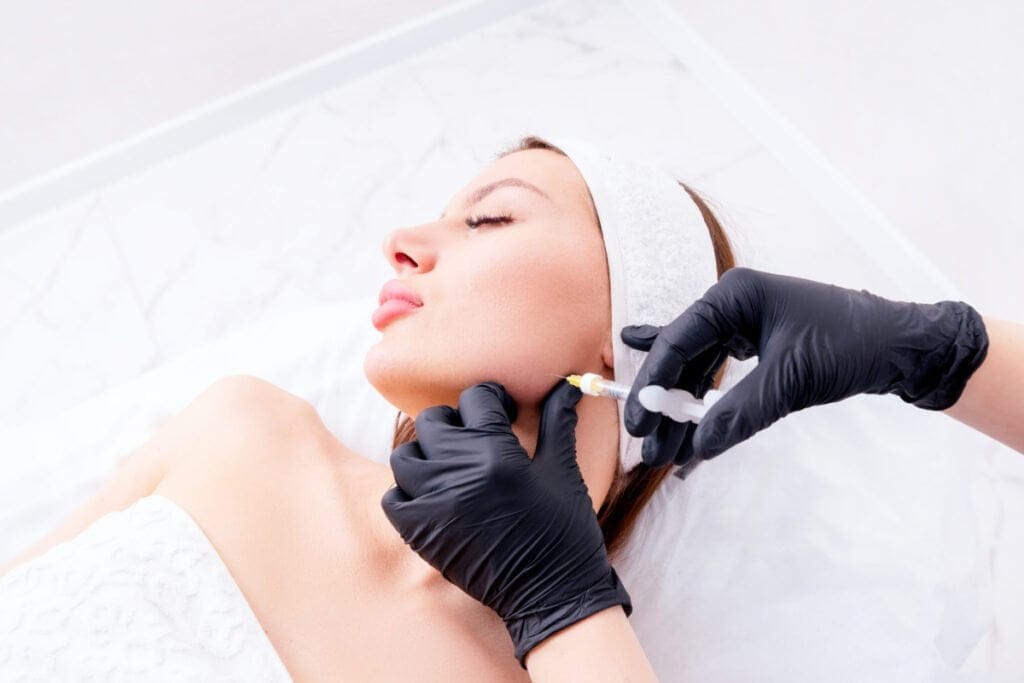 It's not every day that a new dermal filler receives FDA approval, and the new Juvéderm VOLUX™ XC is especially unique: it is the first dermal filler specifically formulated and approved for use in the jawline and chin.
What we know about Juvéderm Volux
The new jawline filler is a highly cohesive, hyaluronic acid-based gel filler. The 6th product to be added to the collection of Juvéderm fillers, Volux is specifically FDA-approved for jawline enhancement, which includes the chin and jowl area.
Volux is composed of a hyaluronic acid gel. It also contains a small amount of lidocaine, an anesthetic that helps to improve the comfort of injections. The manufacturer's proprietary VYCROSS® technology is used in Volux to cross-link the hyaluronic acid particles for an ideal "lifting" texture, cohesivity, and long-lasting results.
Volux is expected to be available at your cosmetic surgeon's office in Spring 2023; according to the manufacturer, training for cosmetic surgeons and other injectors in the proper use of Juvéderm Volux begins in the fall of 2022.
Why a patient may seek jawline filler
Like dermal filler used to augment the cheeks and lips, jawline filler may achieve a patient's goals by adjusting facial proportions and/or creating a chiseled jawline appearance. Potential reasons a patient may choose to receive jawline filler include to:
Adjust facial proportions for improved harmony
Achieve a "chiseled" jawline appearance
Create a more masculine-looking facial structure
Turn back the clock as part of full "liquid facelift" or "8 point lift"
Treat an ill-defined jawline or recessed chin
While the chosen filler formula has an impact on your final results, so does your choice of injector. Treating facial proportions or addressing signs of aging with jawline filler requires a thorough evaluation by an expert. To achieve a natural-looking result with dermal filler, injectors must have knowledge of facial anatomy, patient selection processes, and the planes of injection and facial areas that are best treated with each available product. Choose a skilled, credentialed injector at a reputable medspa or cosmetic surgery practice, and listen to their advice for how to best meet your cosmetic goals; if there are any red flags, do not be afraid to walk away.
Juvéderm Volux vs. currently available dermal fillers for the jawline
While products like Juvéderm Voluma and Restylane® Lyft can be effectively used to enhance the jawline, Juvéderm Volux contains a thicker, more cohesive hyaluronic acid (HA) formula than currently-available HA fillers. Highly cohesive formulas made of other longer-lasting substances like poly-L-lactic acid and polymethylmethacrylate are also appropriate for jawline enhancement, however, some patients prefer hyaluronic acid-based fillers: they produce natural-looking results, last about 6-18 months, and can be dissolved with the enzyme hyaluronidase if needed. As such, Volux will be filling a gap in non-surgical jawline treatment options.
The new Juvéderm Volux will be filling a gap in non-surgical jawline treatment options.
When will Juvéderm Volux be available?
Juvéderm Volux filler is expected to be available in early 2023, according to Allergan Aesthetics (the manufacturer). Volux received FDA approval in August of 2022.
About the American Board of Cosmetic Surgery
For more than 40 years, the American Board of Cosmetic Surgery (ABCS) has focused on certifying experienced, aesthetically-skilled cosmetic surgeons. As leaders in cosmetic surgery patient safety, we test our Diplomates through rigorous exams, as well as a certification maintenance process that is held every ten years of a surgeon's career. As specialists in aesthetic surgery and natural-looking cosmetic outcomes, our surgeons are highly qualified to offer you a beautiful result with injectables, such as Juvéderm Volux and others.
Find a cosmetic surgeon in your area today »