Smart algorithms will soon diagnose skin cancer, dermatologists consult patients online, and 3D printers will print out synthetic skin to fight tissue shortages. There is a lot going on in dermatology, and medical professionals should prepare in time for the technological changes before they start swiping through the specialty. Let's start by familiarising ourselves with the most amazing technologies changing the future of dermatology!
Skin cancer is too common
According to statistics from the WHO, currently, some 1.5 million non-melanoma skin cancers and 325,000 melanoma skin cancers occur globally each year. Data from the US Skin Cancer Foundation suggests that each year over 5.4 million cases of non-melanoma skin cancer are treated in more than 3.3 million people only in the US. The annual cost of treating skin cancers there is estimated at $8.1 billion: about $4.8 billion for non-melanoma skin cancers and $3.3 billion for melanoma, which is an insanely huge number. And what is even scarier? For example, the fact that according to the estimations, one in five Americans will develop skin cancer in the course of a lifetime. And the situation is not a tiny bit better in other countries.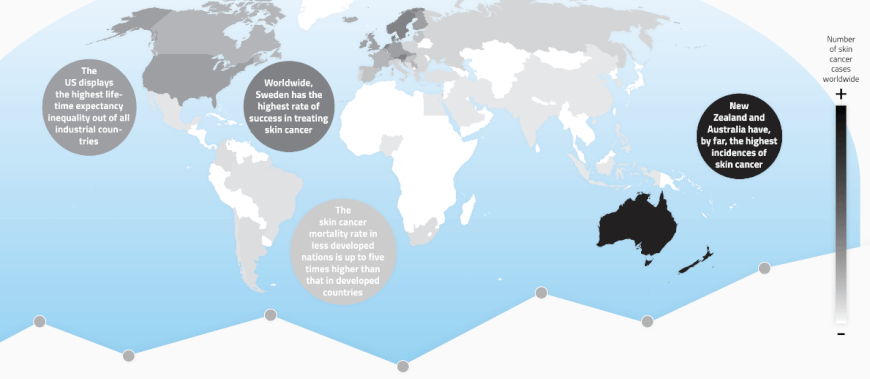 Luckily, digital technologies are on their way to help dermatologists diagnose and treat skin diseases better and more effectively. Innovative solutions have a huge impact on healthcare in general, but in case of certain subfields, such as surgery, even the transformation of the whole specialty can be expected. Looking at dermatology, it will probably not experience such a radical turn as surgery, but the shift will still be determining. Technology has been shaping dermatology praxes for years, which will accelerate in the coming years. Here, I decided to enlist all the digital solutions which can help medical professionals truly bring dermatology into the 21st century.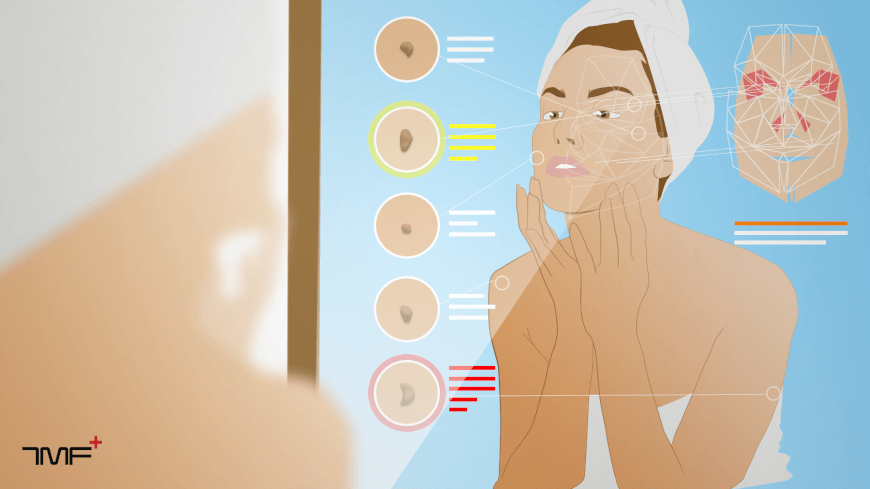 1) Telemedicine
As you can easily detect if you have a skin problem, and smartphones coupled with super-fast internet connection make it easy to send pictures or footage anywhere, telehealth solutions appeared naturally in dermatology. The options of teledermatology services are soaring. FirstDerm, DermatologistOnCall, Direct Dermatology, Online Skin Specialist or iDoc24 and you can find many other providers.
They all work based on the same principle: they promise patients to connect them to a dermatologist online for consultation within a very short period of time. Usually, people can load up their photos to a certain platform, and dermatologists give advice based on it.
The popularity of the platforms shows there was an urgent need for this solution. It also turned out that the majority of the issues were rather harmless: iDoc24 found that 70 percent of all their reviewed cases could be self-treated. They advised the patient to undertake further tests in all the remaining 30 percent of cases. It is a win-win for everyone: patients do not have to wait in crowded waiting rooms for an exam, while dermatologists can deal with the easier cases in a shorter time online.
2) Skin Checking Apps
Multiple studies compare the effectiveness of algorithms against certified professionals. The results are plausible, and it seems the ever-present saying about A.I. in healthcare has its place here, too: "A.I. will not replace dermatologists. But dermatologists using A.I. will replace those who don't."
A study in Nature in 2020 confirmed that on cleaned data for selected lesions, A.I. is as good as or even superior to human experts in image-based diagnosis. Which is a good thing, considering that there's a constant shortage of dermatologists, especially in rural areas. Therefore, it comes as no surprise that Google decided to throw their hat in the ring: the tech giant launched an A.I.-based app to diagnose skin conditions. It turns out the search titan took notice of the ten billion searches annually that were aimed at skin/hair/nail issues and acted upon.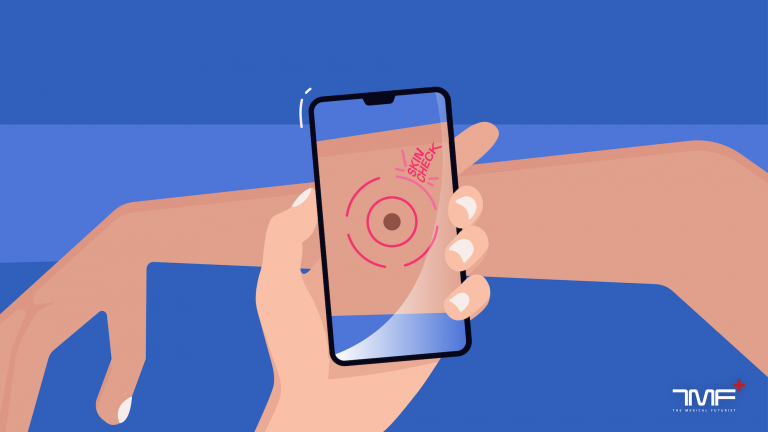 But of course, Google wasn't the first to create an A.I.-based skin checker. Pioneering the technology on the market, SkinVision started working on the technology in 2012.
Derm Assist, another company announced that it received the European CE mark for its smartphone-based dermatology A.I. component. Australian-based medical investment firm Advanced Human Imaging (AHI) bought a Canadian startup, Triage, to enter the market. It's DermaScan app is capable of screening 588 skin conditions in 134 categories with a smartphone.
3) Robotics
Amazing high-tech machines appeared on the stage of medicine lately. The New Jersey-based company, Canfield Scientific installed the first commercial Vectra WB360 whole-body skin lesion mapping system. It is able to take a 360-degree scan of the entire body and identifies all the lesions on the skin. But what is even more exciting is the potential in robots helping dermatologists, especially aesthetic dermatologists in the future.
Many skin cancer types and other skin problems are treated with laser therapies, and a study found that robots might be able to help there. Researchers compared the accuracy and consistency of laser irradiation treatments carried out by humans and robotic arms, and investigators found the robot-guided treatments to be superior to the manually guided treatments. In the future, we can expect laser therapies to be carried out by "robotic surgeons" with humans controlling the process.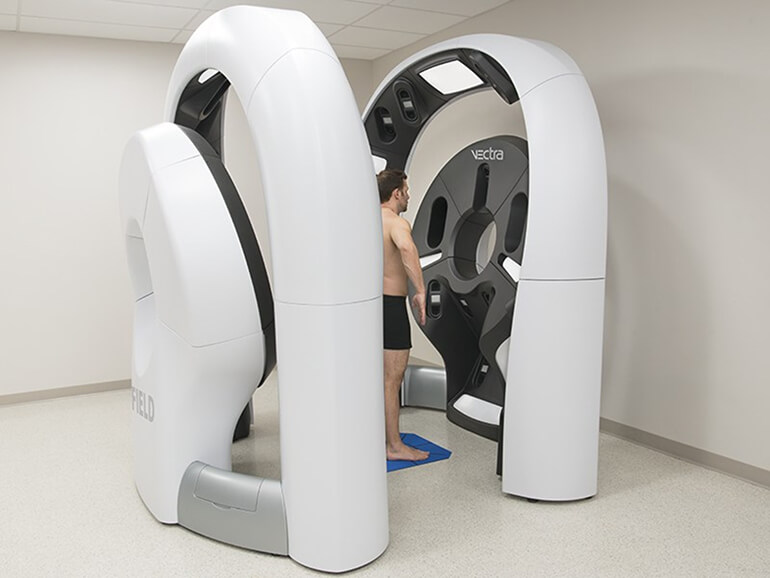 4) Artificial Intelligence
Deep learning algorithms are especially good at recognising certain images, thus they will certainly have a place in the future of medical specialties dealing with medical imaging, such as radiology or dermatology. For example, a while ago IBM decided to let dermatologists leverage on the results of its deep learning platform, Watson in order to diagnose melanoma and other types of skin cancer faster, more accurately and preferably without the need for many biopsies. At the IBM T.J. Watson Research Center, experts found that their deep learning system was able to achieve a 76% accuracy at diagnosing melanoma cases based on dermatology images, while the average accuracy for the eight dermatologists on that data set was 70.5%. It is a very promising result!
Researchers at Stanford University carried out a similar experiment. They created an artificially intelligent diagnosis algorithm for skin cancer with the help of an algorithm developed by Google that was already trained to identify 1.28 million images from 1,000 object categories. Then, they made a database of nearly 130,000 skin disease images representing over 2,000 different diseases; and trained their algorithm to visually diagnose potential cancer. From the very first test, it performed with inspiring accuracy. It performed at least as well as dermatologists participating in the research, which is very impressive! Now, the team is considering to make the algorithm smartphone compatible in the near future, bringing reliable skin cancer diagnoses to our fingertips. Mind-blowing innovation in sight!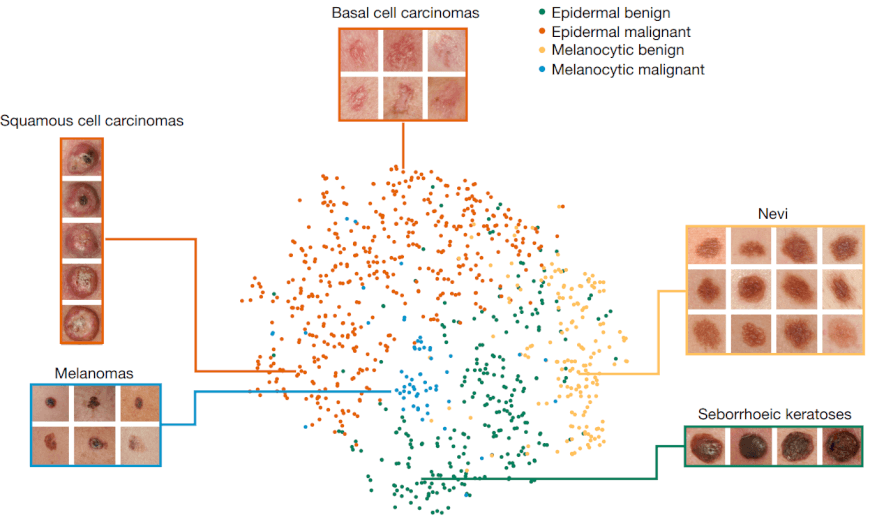 5) Artificial Skin And 3D Printing
The answer to organ shortages of all kinds, including skin, as well as to the increasing reluctance to test new cosmetic, chemical, and pharmaceutical products on animals, is 3D printing and growing tissues in labs. In our case, many innovators focus on the area of artificial skin and plenty of research is going on both for human and non-human applications.
Scientists at the Spanish Universidad Carlos III de Madrid in collaboration with the bioengineering firm BioDan Group have presented a prototype for a 3D bioprinter that can create an entirely functional human skin. James Yoo and his team at the Wake Forest School of Medicine in the US has also developed a similar prototype that can create synthetic skin. San Diego-based bioprinting firm Organovo teamed up with cosmetics giant L'Oréal in 2015 to supply 3D-printed skin.
3D printing could ensure that critical tissue shortages, which were reported for example in Australia in 2016 or in Japan in March 2017, would never again hamper the tasks of medical professionals.
6) Regeneration
Injuries of the skin take a long time to heal. For a 10 mm cut, it takes 1-2 weeks to turn into a scar and then slowly fade away. Researchers are working on various innovations for shortening the healing process and accelerating the natural responses of the human organism for more effective skin regeneration.
Healthpoint Biotherapeutics developed a skin cell spray to improve conventional treatment for leg ulcers. According to a study, applied prior to wrapping the leg with compression bandages, the spray both improved the extent of healing and did it in less time than healing with bandages alone. Another remarkable innovation is ACell's MatriStem, an extracellular matrix, which helps regrow tissues – it even induced the regrowth of an amputated fingertip in 2010. A very similar extracellular matrix helped treat a US Marine who lost 70 percent of his thigh muscle in a mortar explosion in Afghanistan. Researchers at the McGowan Institute for Regenerative Medicine at the University of Pittsburgh applied a "cocktail of proteins" and growth factors derived from pig bladders. After a few weeks, his leg muscles started to grow back! Simply amazing!
7) Health sensors
As the market for wearables and health sensors is exploding, you can find all kinds of tiny gadgets measuring your vital signs and health parameters. In the future, some of these devices will not only do measurements but also offer diagnosis or participate in the treatment of certain diseases. Skin-related conditions might be the first to diagnose or treat with small, sensor-like materials or gadgets. This year, L'Oréal introduced its wearable sensor for measuring sun exposure and notifying the user when they are about to get sunburn. The patch changes color to warn against skin cancer.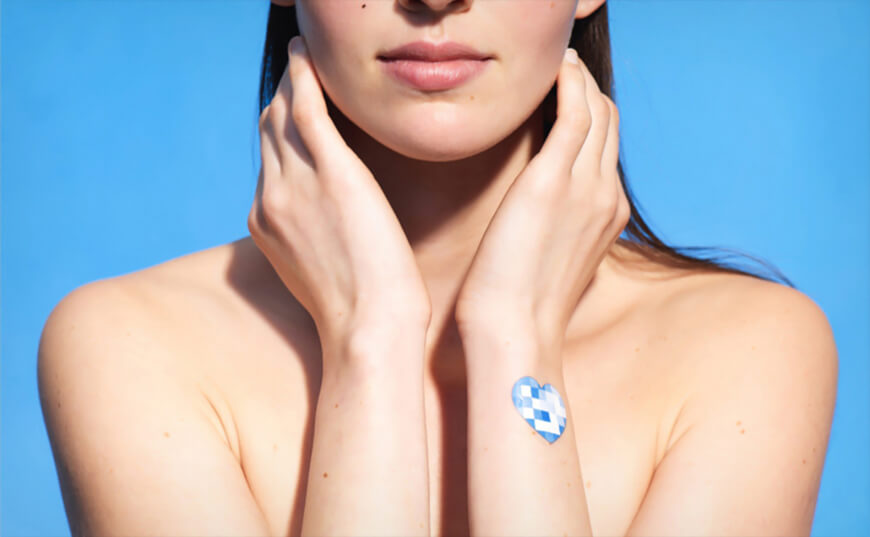 What's more, a group of Indian researchers presented a unique patch for treating skin cancer at the Society of Nuclear Medicine's Annual Meeting in 2012. The patch is infused with phosphorus-32, a radioactive isotope used to treat some types of cancer. The researchers carried out a small study on the effectiveness of the patch and the results were very promising. Ten patients with skin cancer on their faces were treated with the patch, and three months after the treatment, biopsies showed no sign of their tumors. When biopsies were performed again at six months, however, the basal cell carcinomas had returned in two of the patients. I believe it is a great achievement, and I hope to hear about more similar research projects in the future.
8) Nanotechnology and nanoparticles
Nanotechnology proves to be a fertile field in dermatology and especially in cosmetics, as nanoparticles make their way into UV-light absorbing sunscreens and anti-ageing products. When properly engineered, nanomaterials may be able to topically deliver retinoids, antioxidants, and drugs such as botulinum toxin or growth factors for rejuvenation of the skin in the future.
Yet, nanotechnology also has to offer a lot in the fight against cancer. Researchers also are reviewing the use of nanomaterials for the treatment of melanoma. In particular, gold, when turned into a nanomaterial called nanoshells, has been shown to be a useful treatment for melanoma in animal studies. So, perhaps skin cancer will be treated by gold in the future. Who knew that everyone's favorite jewelry material has such beneficial traits?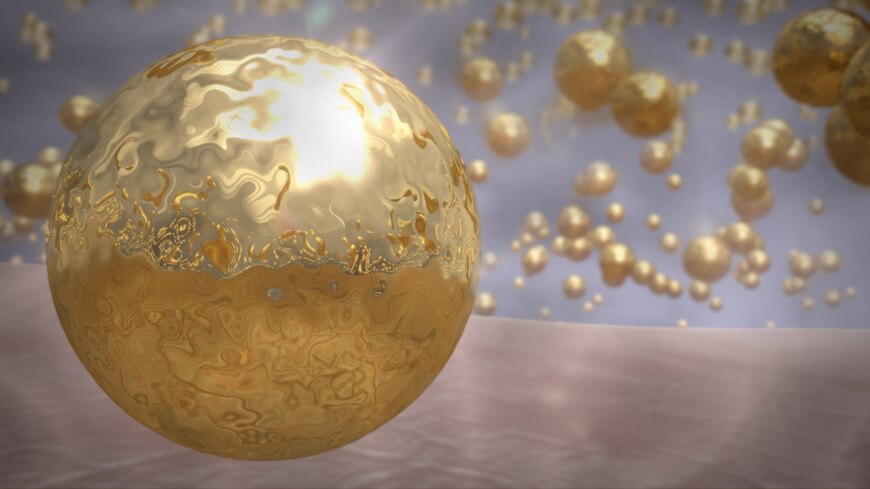 Although the above list certainly has its limitations, it shows the vast potential of digital technologies to change the landscape of dermatology very soon. Thus, a student who wants to become a dermatologist might better become friends with disruptive innovations to get the most out of them when they start practicing.
At The Medical Futurist, we are building a community for making a bold vision about the future of healthcare reality today.
If you'd like to support this mission, we invite you to join The Medical Futurist Patreon Community. A community of empowered patients, future-oriented healthcare professionals, concerned health policymakers, sensible health tech developers, and enthusiastic medical students. If there were ever a time to join us, it is now. Every contribution, however big or small, powers our research and sustains our future.
Click here to support The Medical Futurist from as little as $3 – it only takes a minute. Thank you.
The post Amazing Technologies Changing The Future Of Dermatology appeared first on The Medical Futurist.